Posted by Kensight Sights on 26th Mar 2015

Are The Kensight Bomar BMCS Sights Better Than The Originals?
We say absolutely! What makes them better you ask? The Original Bo-Mar BMCS main trunnion was silver soldered onto the rear blade. This is not a problem until it flies off in your face while you are shooting. We have seen happen several times with the Original Bo-Mar, and with other manufactures of the Bomar style sights.
The Kensight Branded Bomars are Wire-EDM manufactured from one solid bar of high grade 4140 chrome-molybdenum steel to ensure the trunnion will NEVER BREAK PERIOD. The Kensight sights are then heat-treated to Rc 38-40, and vacuum tempered to help retain these tolerances for many years to come.
Why Is The Wire-EDM Manufacturing Process So Important?
The Original Bo-Mars were constructed at a time when Wire-EDM technology was not widely used. This means it was a daunting task to make dovetails super precise and consistent without measuring each dovetail several times during the manufacturing process. This is also the reason we see so many 1911 manufactures that have slightly different dimensions on their slide dovetails. They tend to make them larger because they could never count out exacting precise measurements from sight to sight.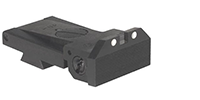 The Wire-EDM manufacturing process ensures Kensight sights dimensional tolerances are as close as +/- 0.001″ which allows our sight dovetails to be more consistent from sight to sight. This also makes all the precision components (like Windage & Elevation Adjustments) to work exactly as intended and designed.
We have applied these same Wire-EDM manufacturing techniques to all of our Kensight designs like the Novak LoMount Sights, LPA TRT Dovetail Sights, GI Government Sights and more. This is what makes the Kensight the top choice for most of the OEM 1911 manufactures and custom builders in the industry. The Kensight BoMar BMCS is simply better built than the original, and backed by our Limited Lifetime Guarantee.